The Young and the Tactless is the 21st episode of the third season and the 67th overall. This episode marks the first appearance of Woody Harrelson as Nathan.
Karen gets rid of her mother-in-law by leaving her with Jack and Will for the night. Grace gets to know an oddly charming neighbor.
Synopsis
The Goiter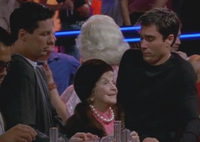 Karen is stressed out as her mother-in-law Sylvia Walker is in town so she finds refuge in Will's apartment since as she puts it, Sylvia "will never think to look for [her] in government-assisted housing". Later she brings her to the apartment and Will and Jack are surprised to see a meek and well-mannered old lady instead of the monster Karen built her up to be.
However, Karen leaves before Will and Jack could notice, getting rid of Sylvia and leaving the two no choice but to bring her along to a gay bar.
At the bar, Will is disappointed that no one is interested in him so Sylvia consoles him, stressing "how do you expect anything in your life to change if you don't change?". With Sylvia's words, Will takes a chance and gets a date with a younger guy named Scott. When Will thanks Sylvia for encouraging him to break his pattern, they find out that she is extremely homophobic and is unaware that she is at a gay bar with two gay men.
Craw
Grace goes to confront her obnoxious neighbor who took her wet laundry out of the dryer when he tells her he is making a mixtape for her girlfriend whom he had a fight with. When Grace points out how ridiculous it is, he engages her by pointing out that she is living with a gay guy instead of being in a relationship.
Later, Grace finds his underwear mixed in with her laundry so she comes up to his apartment again where he invites her to a Venice-inspired dinner. Grace is confused so he explains that he set it up for his girlfriend Vicki who rejected it, which infuriates Grace. As she expresses how insulted she is being offered a "used" night in Venice, he kisses her and after a beat, she agrees to go on one date.
Cast
Main
Guest
Notes
Cultural references
Quotes
There's a roll of quarters in my top drawer right beside my eye cream and my pedicure kit. Wow. My dad would be so proud of me. — Will
Stanley's mother's in town. You gotta let me hide out here. She'll never think to look for me in government-assisted housing. — Karen, at Will's apartment
| | |
| --- | --- |
| Will: | Karen, wouldn't it be better to just to learn to deal with her? I mean, think about it. She's the mother of the man whose bank account you love. That relationship's not gonna go away. |
| Karen: | I see where you're going with this, Wilma, but... I can't have her whacked. |
—

dealing with her mother-in-law
| | |
| --- | --- |
| Nathan: | Hey, you're a girl. What is the most romantic Megadeath song? |
| Grace: | What? |
| Nathan: | Well, I had a big fight with my girlfriend. She says I'm aimless and don't have any ambition, so I decided to make her this tape: "Heavy Metal Songs of Love and Devotion." |
| Grace: | Hey, good plan. Yeah, you know, I always thought that if Humphrey Bogart had just made Ingrid Bergman a mix tape, she never would've gotten on that plane. |
You're gonna give me relationship advice? Yeah, that's what I need. Then maybe I could find some nice gay guy to live with for the rest of my adult life. — Nathan, to Grace
Ha ha. Oh, honey. I got a fake laugh with your name all over it. — Karen, to Will's joke
We have to be at the club in less than an hour. And I still need time to soak and spritz before I can sizzle. — Jack
| | |
| --- | --- |
| Jack: | When clubbing, I put my phone in my underwear. |
| Will: | Yeah, that's just so when it rings, you can say, "wanna grab that?" |
| | |
| --- | --- |
| Will: | Get over here and pick up your mother-in-law. |
| Karen: | I will when you get over here and pick up your mother-in-law! |
| Will: | I don't have a mother-in-law! |
| Karen: | Then the deal's off! |
| | |
| --- | --- |
| Jack: | It's official. We're dating. |
| Will: | Which one? The one on the right or the one on the left? |
| Jack: | Yes. |
| | |
| --- | --- |
| Scott: | Do you want to go? Maybe get some dinner afterwards? |
| Will: | I don't know. |
| Scott: | Why not? |
| Will: | Well, for one thing, in the 80s, when I was wearing safety pins to look cool, you were wearing them to stay dry. |
| | |
| --- | --- |
| Grace: | Did you put your underwear in with my laundry? |
| Nathan: | I needed to get you up here. |
| Grace: | Ever hear of a Post-It? |
| Nathan: | Uh, yeah, but then my underwear would still be dirty. |
Community content is available under
CC-BY-SA
unless otherwise noted.