The Old Man and the Sea is the 3rd episode of the eighth season and 173rd overall.
Karen and Malcolm sets Grace up with a guy whom she thinks is not good enough for her. Jack tries to teach Will how to swim.
Synopsis
And jump and jump and down
Jack gets Will to admit that he never learned how to swim because of a traumatic experience when he was young so he takes him to the gym to learn. During their lesson, Will feels almost drowning and abruptly leaves. Later he tells Jack he has decided not to learn anymore. However, Jack hears a swimming instructor leaving a message on Will's machine and he realizes Will still wants to learn how to swim, just not from him. Jack expresses how disappointed he is that Will does not trust him after he supported him during the hardest decision he made when Will came out. Will later apologizes and reaffirms to Jack that he does trust him because Jack has been "saving [his] life" since the day they met. They make up and Will asks for another swimming lesson.
Princess Grace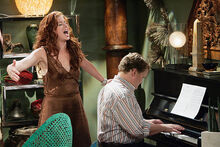 Grace agrees to be set up on a date with Dale, a sweet guy who lives near a landfill in Staten Island. When Grace expresses how Dale is wrong for her, Karen accuses her of being a snob. In order to prove Karen wrong, Grace agrees on a dinner at Dale's apartment in Staten Island.
Grace finds it hard to hide her aversion towards Dale but soon sees that he is funny, sweet, a world traveler, and on the piano plays songs they have the same taste in ("strictly show tunes and Top 20"). However, as soon as Grace sings along the piano, Dale hints that he is turned off by her voice. Grace realizes that Dale is a snob and walks out as she desperately tries to prove she can sing.
Cast
Main
Guest
Notes
Cultural references
Media
Quotes
| | |
| --- | --- |
| Grace: | Can you believe this? Now they're saying chewing tobacco's bad for you. |
| Will: | Now? What are you reading? Sunset Magazine from 1982? |
| Grace: | Stole it from the doctor's office. You make me wait, I take something. |
| Will: | That would explain the model of a uterus on your credenza. |
William Truman! You are a 57-year-old man! You should learn to swim! — Jack
References