The Definition of Marriage is the 15th episode of the eighth season and 185th overall. Musical duo Hall & Oates make a guest appearance.
Karen throws a surprise wedding ceremony for Grace and James.
Synopsis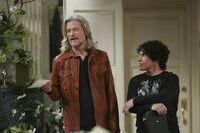 As Will is preparing for Grace's green card wedding to his Canadian boyfriend James, she feels mostly indifferent, refusing anything lavish for the ceremony. Karen however, surprises them with an impromptu wedding at their apartment with their friends and Grace's mother Bobbi in attendance, as well as musicians Hall & Oates (now "Oates & Hall") to sing and serve drinks.  
After Grace puts on her wedding dress, she starts feeling queasy and thinks that seeing herself in a wedding gown brings back memories of her wedding to Leo. Still, the wedding pushes through and James officially becomes an American by his marriage to Grace. The morning after, Grace comes back from the doctor after finding out that she has been feeling weak because she is pregnant.  
 Cast
Main
Guests
Notes
Cultural references
Media
Quotes
I can't believe she gets to wear that beautiful dress. I kind of want to trip her. — Ellen
Grace, I love your hair. It's a kind of red that you really don't see that often, outside the Raggedy family. — James, his wedding vow
I didn't faint. I barely Lindsay Lohan'd. — Grace
| | |
| --- | --- |
| Bobbi: | Oh, dear, are you alright? Oh, your make-up is so thick, I can't get a read. |
| Grace: | At least mine doesn't come off in one piece. |