Terms of Employment is the 8th episode of the second season and 30th overall.
Will faces a dilemma of accepting a job offer and supporting Grace. Jack and Karen get hired to act on an employee training video.
Synopsis
Mr. Doucette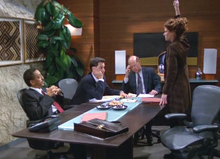 Grace is planning to sue a client who backs out after she had already made an expensive purchase, so she asks Will to represent her. He finds out that Grace's client is notorious lawyer Ben Doucette so Will prepares himself for a meeting after being unemployed for a month. However, upon meeting Doucette, Will and Grace are shocked when he offers Will a five-year contract instead.
On Will's first day at the firm, Doucette instructs him to make Grace's case against him "go away", implying Will must defend his new boss instead of Grace. She learns of this and naturally feels betrayed and refuses to accept Will's money.
During arbitration, Will decides to side with Grace and Ben reveals that he was planning to pay her all along and was just testing Will's integrity.
Mr. Weckerly
Jack gets hired to act in an employee training video about sexual harassment in the workplace. On the first day of the shoot, Jack's female co-star gets sick and is replaced by Karen, who drove him to the set. As part of the scene, Jack puts his tongue in Karen's ear and she is uncontrollably turned on, which results in a total of 148 takes.
Cast
Main
Guest
Robert Clendenin (Bob Dent)
Aaron Lustig (Marv Buhl)
Dan Sachoff (Announcer)
Media
Notes
Cultural References
Quotes
I'm raiding your closet. They said, "dress like a repressed straight guy." — Jack, to Will
Do I hear a doubt, Mrs. Doubtfire? — Grace
You can do this. As Jane Seymour says to her wheelchair-bound husband in every Lifetime movie..."I believe in you." — Grace
Ben:

I know who you are. Your reputation proceeds you.

Will:

And, Mr. Doucette, your reputation proceeds you.

Ben:

And, Mr. Truman, my reputation proceeds your reputation.
I can't believe I said that without a cigar.
Honey, when I agreed to drive you to the set, you didn't say it was on Staten Island! How the hell am I ever gonna get the stench of landfill and working class families out of tropical lightweight wool? — Karen
| | |
| --- | --- |
| Ben: | I'm gonna make a wild guess here and say that you two are more than friends but less than lovers. You're gay, and she's straight. |
| Will: | Very good. Now if you can guess my weight, you'll get a T-shirt that says, "That's really none of your business." |
—

about Will and Grace's relationship
| | |
| --- | --- |
| Will: | What's with you and the nuts?! Are you gonna eat one or what? |
| Ben: | I don't like eating them. I just like crushing them. |
| Will: | Give me a break. Shouldn't you be stroking a white cat while you say that? |
Meats and cheeses! You are rockin' my clock, Mary! — Karen, enjoying Jack's tongue on her ear
| | |
| --- | --- |
| Ben: | I'm going to a dinner. They're honoring African-Americans who run big-time law firms in New York City. It's being held in a phone booth on the Upper East Side. |
| Will: | That the same phone booth where they held the Gays for Buchanan rally? |
| | |
| --- | --- |
| Grace: | May I approach the bench? |
| Buhl: | You'd have to build one first. |
| | |
| --- | --- |
| Will: | But wait, wait, wait, wait! So, what? This was just a test? Like this is Willy Wonka and you've just given me the keys to the Chocolate Factory? |
| Ben: | Will, you've got your job. But, please, don't refer to me as "the chocolate factory. |
—

when Ben tests Will
Community content is available under
CC-BY-SA
unless otherwise noted.