Swimming Pools...Movie Stars is the 12th episode of the third season and 58th episode overall.
Will and Grace befriend comedian Sandra Bernhard while pretending to be interested in her apartment. Karen is livid that her stepson Mason made the swim team and she must be attend the swim meets twice a week to show her support.
Synopsis
Swimming Pools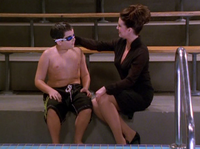 Karen's stepson Mason makes the swim team and she must show her support by going to the public pool which she despises. However, Karen arrives too late and she learns from Jack that Mason thinks she does not want to see him because she does not like him.
Karen makes up to him by attending the next swim meet and telling him how proud she is. When Jack arrives, she tells Karen that she is hugging the wrong kid.
Movie Stars
Will and Grace pose as "wealthy dot-commers who don't have kids" to snoop around famous people's apartments up for sale. As they visit comedian Sandra Bernhard's apartment, she arrives and they become friends instantly, and even invites them over for a dinner party.
When Will and Grace arrive back home, Sandra leaves a message that she is accepting Will's "low-ball" offer of $1million. They rush back to Sandra's to tell her that they are not really looking to buy. After being bombarded with profanities, Will and Grace leave and decide to go home but not before snooping at Uma Thurman and Ethan Hawke's apartment next door.
Cast
Main
Guest
Sandra Bernhard (Herself)
Mitch Kaplan (Mitchie)
Pamela Tyson (Joan)
Cheryl White (Cheryl Bricker-Fossberg)
Shondra Olds-Whitlow (Girl)
Thi Nguyen (Mei-Lihn)
Molly Bryant (Realtor)
Susie Geiser (Mom #1)
Notes
The title of the episode is a line from the theme song of the TV show The Beverly Hillbillies.
Sandra Bernhard is one of executive producer Jhoni Marchinko's best friends. Sandra's pianist Mitchie is her actual pianist and collaborator Mitch Kaplan.
The song Sandra is singing upon entering the apartment is Windmills of Your Mind. She sings this again during her brief appearance during the season 4 episode Someone Old, Someplace New.
Will's lonely story as fat kid at school with no friends is mentioned again.
Will, Grace and Sandra sing the 1973 Gladys Knight & The Pips classic Midnight Train to Georgia.
Cultural References
Will speculates that rock star Courtney Love must have used the bathroom at Sandra Bernhard's apartment. Love and Bernhard are close friends.
Sandra says that she was on the cover of Jewish Daily Forward in a bikini sitting on the lap of Jewish actor Fyvush Finkel, who is in his 70s at the time.
Sandra tells Will and Grace they resemble Dharma & Greg.
Media
Quotes
I got this scooter, which happens to be autographed by Ricky Martin! The openly Latino pop singing sensation? — Jack
He's gorgeous. His body is his temple, and his temple smells like old man stew. — Sandra Bernhard, about the Dalai Lama
| | |
| --- | --- |
| Rosario: | In my country, we have this thing where the parents are involved in their kids' lives. |
| Karen: | Well, in your country, they hunt in packs and bury their food. What the hell has that got to do with me? |
Good lord. I can't believe I'm at a public pool. Why doesn't somebody just pee directly on me? — Karen
| | |
| --- | --- |
| Cheryl: | Mrs. Walker? Cheryl Bricker-Fossberg, Taylor and Hayden's mom. |
| Karen: | I have no idea what you just said. |
| | |
| --- | --- |
| Cheryl: | I just want you to know I think you're awful. Your son Mason swam his heart out today, and all he wanted to do was share that joy with his family, but when he looked up in the bleachers for a familiar face, nothing. Not even a housekeeper. I find that appalling. |
| Karen: | Oh, yeah? Well, I find stretch pants appalling, but I'm too much of a lady to mention it, fat ass. |
Over my drop-dead gorgeous body! — Jack
| | |
| --- | --- |
| Grace: | What were you talking about? |
| Will: | Things you talk to your friends about. |
| Grace: | Pooping? |
| Will: | My other friend. |
Sweetie, if I wanted your sound in the show, I'd strangle a couple of cats. — Sandra Bernhard, to Grace
Community content is available under
CC-BY-SA
unless otherwise noted.