Partners 'n Crime is the 21st episode of the eighth season and 191st overall.
A heavily pregnant Grace starts to feel more alone as Will and Vince's relationship becomes more serious. Jack becomes too busy on his new show to help out in Karen's marriage problems.
Synopsis
Jewpetto and Feynoccio
Grace has started attending childbirth class with Will, who had recently gotten back together with Vince. While in one of the classes they run into the heavily pregnant Sheila, the nurse from the sperm clinic they went to years ago, who is having the baby on her own. When Will had to leave with Vince and Grace had to finish the class alone, she becomes worried that Will might do the same when the baby comes and she will be left one her own just like Sheila.
During the next class, Grace decides to go without Will. However, he still comes by and Grace confides her fears about raising the baby alone. Will reassures her that they will be together "from diapers to college".
Darren and Franley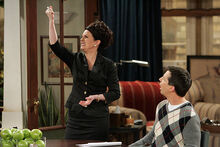 Things have been difficult in Karen and Stanley's marriage after they got back together. She tries but fails to find comfort in Jack, who is busy shooting the pilot episode of his new TV series The Badge. Due to the pressure of getting into character effectively, Jack repeatedly dismisses his friend's needs.
When Jack finally realizes how cold he has been to Karen, he rushes to her mansion and finds that she and Stan have decided to separate. Jack asks for Karen's forgiveness by giving a monologue to "Darren", telling her she is a strong woman and will come out of it okay.
Cast
Main
Guest
Paris Barclay (Director)
Carol Leifer (Nancy)
Dan Wells (Mike)
Ayda Field (Barbara)
Hugh Davidson (Dan)
Notes
Will and Vince are dating again. They reunited after Will's father's funeral in the previous episode.
Nurse Sheila's first appearance since the episode Speechless in season 6. This is also her last appearance in the original series.
Ayda Field (as Barbara) and Hugh Davidson (as Dan) were credited during the closing credits, but they did not appear to have any scenes in the episode.
Only writing credit of Josh Silberman & Zack Slovinsky for the show.
Cultural references
Jack exclaims "Cagney & Lacey underwear, I'm late!", a reference to the 80s police drama series Cagney & Lacey.
Well, I wanted to watch the scene, but just as it was starting, a red light went on. And... well... old habits die hard.
Will and Grace find a doll which looks like actress and fashion model Mena Suvari known for her doll-like appearance.
Grace mentions having a dream with Taiwanese director Ang Lee who gained recognition for remarkable cinematography in his works. She describes her dream as "a little slow-paced, but visually stunning".
When Grace is accusing Will of trying to dominate her pregnancy, she tells her "you're not the President. Get out of my uterus." This is a reference to the pro-choice movement and the recent Unborn Victims of Violence Act of 2004 in the US signed into law by President Bush.
Media
Quotes
Ever since I made detective, it takes me forever to figure out what I'm gonna wear. You know, the right shirt can really pull together a crime scene. — Vince
You know, it is hard to stay angry when pistol whipping. I think it's because after the first couple of whacks, you get the giggles. — Karen
I was too busy watching you. I can't look and listen at the same time. I'm not some robot from the future. — Jack
It never occurred to me that my character, womanizer Chuck Rafferty, would have sex with a woman. I thought "womanizer" meant he eliminated women. — Jack, reading his script
| | |
| --- | --- |
| Mike: | You were amazing. In that scene Jack, you were so intense! I thought you were going to pistol whip me for real. |
| Jack: | I wanted to. It bugs me when straight people look like you. |
—

shooting the pilot
My character makes love to his partner's wife, but then it gets all sad because it can never happen again. Okay, first of all, why is he sad? I mean, he should be happy he doesn't have to have sex with a woman again. — Jack
| | |
| --- | --- |
| Kitty: | Jack, can I give you a little constructive criticism? |
| Jack: | Uh, take it up with someone else. I didn't build the sets. |
| | |
| --- | --- |
| Vince: | Hey, did I tell you we finally caught that subway killer today. |
| Will: | I thought you said you arrested somebody yesterday. |
| Vince: | Oh yeah, it turns out he was the wrong guy. Worked him over pretty good, too. |
| Will: | Well, at least now he has a funny story. |
| | |
| --- | --- |
| Grace: | I hate these protein shakes. |
| Will: | So does every gay man in the city. But, like you, we drink them for somebody much younger than we are, who we hope one day will look at us with adoring eyes. |
I may be a pill-popping, jet fuel sniffing, gin-soaked narcissist... but I'm not an actor. I listen when people speak. — Karen
You're not the President. Get out of my uterus. — Grace
Community content is available under
CC-BY-SA
unless otherwise noted.