Lows in the Mid-Eighties is the two-part 8th & 9th episodes of the third season and 54th & 55th overall.
It is one of the few episodes to feature a flashback to the life of the characters prior to the show. Most of the scenes are set in 1985, when Will and Grace were still students at Columbia.
Synopsis
While waiting to be seated at a restaurant, Will, Grace, Jack and Karen meet Pam who is having trouble understanding her boyfriend Tom. The group right away sense that Tom is gay so Jack suggests they tell the story on how Will came out to Grace while they were still dating.
When Mary Met Sally
While still in her freshman year in college in 1985, Grace is dating Will who is still in the closet. She plans on losing her virginity to him on Thanksgiving when they go to visit her parents for the weekend. After a party at his dorm room, Will meets a teenage Jack McFarland who immediately senses that he is gay.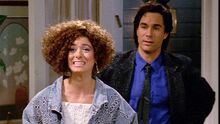 At Grace's parents' house, her mother prohibits them from sleeping on the same bed so Grace sneaks into Will's room to seduce him. In order to keep them from having sex, Will tells her that they should wait until the time is right and he accidentally proposes to Grace, which she jubilantly accepts. As the entire family celebrate, Will excuses him and Grace to the kitchen where he finally tells her he is gay. Devastated, Grace throws him out of the house and the two lost touch of each other.
They bump into each other at the supermarket a year later; Grace tells Will that she moved off-campus. As a woman walks by Grace, Will quickly hides behind a shelf. Back in the present, Grace asks Will what was that all about and Jack blurts out that the woman was Diane, the woman Will slept with the night after they broke up. Grace becomes upset learning that he had slept with another woman right after he could not do it with her. Grace storms out and Will chases her trying to explain how drunk and upset he was that night. He recalls how awful the experience was and that he needed to do it with someone whom he does not love because he did not want to put Grace through that. Grace is touched and they reconcile, not realizing they are in front of the same supermarket where they became best friends.
The Sultan of Boran
Intertwined with Will and Grace telling their story, Karen also recounts her life during the same period where she had three lovers: the Sultan of Boran, a man named Clayton, and Martina Navratilova. She breaks up with them because she has fallen in love with Stanley Walker, who turns out to be married. She also recounts how she met a cigarette lady named Rosario who ends up being her maid ever since.
Cast
Main
Guest Cast
Ever Carradine (Pam)
Raymond Forchion (Clayton)
Michael D. Trail (Guy)
Scott Berman (Dontonio)
Martina Navratilova (Herself)
Lisa Borgnes (Diane) (uncredited)
Notes
Cultural references
Media
Quotes
Honey, I've always said, if your genitals are on the outside, you're hiding something on the inside. — Karen, if men cannot be trusted
| | |
| --- | --- |
| Jack: | Shouldn't we help her find her way back to a place called hope? |
| Karen: | Honey, she's wearing synthetic plaid. It's a 4-day drive and a boat trip to a place called hope. |
| | |
| --- | --- |
| Will: | How would you like it if I kicked your ass? |
| Jack: | That depends on the spirit on which it is delivered. |
| | |
| --- | --- |
| Bobbi: | Grace, I always forget how beautiful you are. |
| Grace: | Mom giveth. |
| Bobbi: | Why do you have to cock it up with that hair? |
| Grace: | And Mom taketh away. |
Isn't he clever? Why some woman has never snatched him up is beyond me. — Bobbi, about her gay pianist
| | |
| --- | --- |
| Karen: | I've got some bad news. I can't marry you. I'm in love with someone else. |
| Martina Navratilova: | But, Karen, I was straight before I met you. |
| Karen: | Well, that's the way the cookie crumbles, Marti. |
| | |
| --- | --- |
| Will: | Hi, Jack, it's Will Truman. |
| Jack: | Oh, right, from Queens College? |
| Will: | No, I go to Columbia. |
| Jack: | Missy, anywhere you go is Queens College. |
You bastard! I'm in love with you, and you're treating me like some sort of test drive?! You take me out for a spin, and you go, "Hmm, I don't really like the feel of this one. I think I'd rather have a stick." — Grace, finding out his fiancé is gay
| | |
| --- | --- |
| Will: | Don't you see what a compliment that is? I mean, I love you, so if I can't make it work with you, then it'll never work with any woman, because you're perfect for me. |
| Grace: | That is not a compliment. A compliment is "You're sexy, you turn me on," not "One look at you proves I'm a queer!" |
Grace, you ruin everything. — Joyce, learning that Will is gay
You know, I always knew this would be hard. I guess I just hoped that because it was you, it wouldn't be the worst moment of my life. — Will, being thrown out after coming out to Grace
I owe you everything, you know? I mean, this past year, coming out. You've been like my sherpa through the Himalayas of... him-a-laying. — Will, to Jack
I love you the way you love a cherished family pet. That you never want to have sex with. — Will, turning down Jack
| | |
| --- | --- |
| Will: | Why is this such a big deal? |
| Grace: | Because I thought that I was the one that helped you come out. |
| Will: | You were! |
| Grace: | I thought that I was the one that changed your life. |
| Will: | You did! |
| Grace: | I thought it was my naked body that did nothing for you! |
| Will: | It didn't! It still doesn't! |
| Grace: | Don't try to make me feel better. |
—

learning about Diane
| | |
| --- | --- |
| Will: | So are we okay? |
| Grace: | We will be. |
—

in 1986, and 14 years later
Community content is available under
CC-BY-SA
unless otherwise noted.