Jingle Balls is the 12th episode of the fourth season and 83rd overall.
Jack offers himself to design a window at Barneys taking the opportunity from Grace. Will is somewhat ashamed of a guy he has been seeing, a dancer named Robert.
Synopsis
"Oh he's a dancer"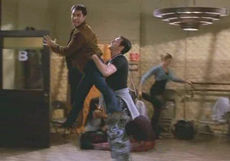 Curious to meet Will's new beau Robert, Grace invites him to dinner and finds out he's a ballet dancer. After he leaves, Will is furious at Grace for "judging" him based on what he does, although she actually liked Robert. Grace suggests that Will is ashamed because he himself is the one with a problem with Robert.
Later as the snow starts to fall, Robert prances around on the streets of New York and Will resolves to break up with him.
Barneys window
As Jack's boss Dorleen looks for a designer to do a window at Barneys, he offers himself instead of Grace, much to her chagrin. He takes Karen as his assistant and presents to his boss an S&M-inspired and wildly inappropriate concept for the window, which includes Karen in a skimpy Santa outfit cracking a whip and three not-so-wise-but-very-hot men. Dorleen is appalled and threatens to fire him if he screws up.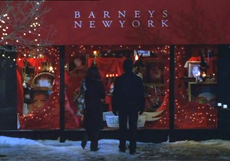 That evening, Grace hears a hopeless Jack praying to
Santa Claus
to help him and she actually starts feeling sorry for him.
When Jack finally unveils the empty window, he is surprised and confused to find that someone else had designed the window for him. Dorleen is pleased, describing the display as "dark", "glam", and "sad", which is how Christmas is. Grace implies to Jack that she did it for him but Jack innocently deduces that Santa did it.


Cast
Main
Guest
Notes
Cultural references
Media
Quotes
It's Christmas, for goodness sake. Think about the baby Jesus. Up in that tower lettin' his hair down so that the three wise men can climb up and spin the dreidel and see if there's six more weeks of winter. Think about that. — Karen, on Christmas
Community content is available under
CC-BY-SA
unless otherwise noted.