I Second That Emotion is the 2nd episode of the eighth season and 172nd overall.
Will helps Karen with her bottled emotions. Grace unexpectedly becomes Jack's guest for his talk show.
Synopsis
Love me back, dammit!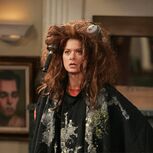 Grace agrees to decorate the set of Jack Talk in preparation for an appearance by Harrison Ford. However, Harrison Ford cancels and Jack is forced to start the show with Grace as his guest. The audience is impressed that Grace is best friends with a gay man and that is involved in the New York gay scene. When Jack remarks that Grace loves everything about gay men, she shares that he does not like gay men who don't like themselves.
Later, while getting her hair done at the salon, Grace and the hairdressers watch Jack Talk where they find out that her interview has been edited in a way which made her seem homophobic. This results in Grace being harassed by gay men on her way home, including her hairdressers. After forcing Jack to put her back on the show to clear her name, Grace gets booed. However, she delivers a passionate speech about loving gay men even though they did not care for her.
One brick at a time
Will checks up on Karen, whom he thinks is not dealing with the recent news that her husband Stanley lied about his death. When Will asks Karen to let her feelings out, she admits that she is feeling empty and confused and even more alone than she did when thought Stanley was dead, which causes her to finally break down.
After Karen's emotions get out of hand, she accuses Will of not dealing with his problems himself. Will looks at his failed relationship with Vince and the successful career he left behind realizes that he also in denial about his true feelings and begins to sulk in the choices he made. The two decide to "leave the walls up and all the feelings on the other side".
Cast
Main
Guest
Matt Crabtree (Stage Manager)
Thomas J. Hamilton (Guy)
Sachiko Hayashi (Harumi)
Notes
This is the first time Will is able to get through to Karen to open up about her feelings. He does the same thing when Karen mourns over the loss of a loved one in the episode Rosario's Quinceañera.
Cultural references
Media
Quotes
| | |
| --- | --- |
| Will: | Okay, look at this picture. If you look at it closely, I swear you can see Katie Holmes mouthing, "Help me." |
| Grace: | Please. She made her own twin beds. |
—

reading a magazine
Shame on you! Bad queens! Bad queens. Do you even know who you're booing? I have been devoted to you for decades. When I was a little girl, I showed you mine when you showed me yours. Even though you didn't care. When I was in high school, I showed you mine when you showed me yours, even though you didn't care. And when I was in my twenties, I slept with you, even though you still didn't care. And now, you sneer at me at the Chelsea Market, and you-- you throw macaroni salad at me on Christopher Street? And it's so not fair, because I love you people! I have always loved you in a very unhealthy way. For my own personal development, so now love me back, dammit! — Grace
| | |
| --- | --- |
| Will: | I've had tons of successful relationships! |
| Karen: | That all ended. |
| Will: | Successfully! |
Any hag worth her salt has that speech ready to go for the day you guys turn. — Grace
References
↑ (June 7, 2005) "Russell Crowe Accused of Assault With Hotel Phone" The NY Times
Community content is available under
CC-BY-SA
unless otherwise noted.