Gypsies, Tramps and Weed is the 7th episode of the third season and the 53rd episode overall.
Will reluctantly uses a gift certificate from Grace to consult a psychic about his future. Karen frowns on Grace's new employee at the design firm. Jack meets his biggest idol.
Synopsis
The friends celebrate Will's birthday at a restaurant where Grace gives Will a gift certificate from a psychic. While having their dinner, the waiter, Lenny is rude and dismissive of them so Grace complains to the manager which ultimately gets Lenny fired. Grace as a result is racked with guilt.
Code word: Ottoman
The next day, Karen comes to work to find that Grace has hired Lenny as a new office assistant, mainly out of guilt. At first Grace is impressed that Lenny has immediately began to rake in new clients but soon discovers that these "clients" are just people he is selling cannabis to. Grace later fires him for taking advantage of her.
I am not having sex with you!
Will reluctantly visits Psychic Sue for a reading where she tells him about a "trip to China" for someone he loves. When Psychic Sue adds foreseeing a reunion with a "loved one from the past" — a strawberry blond-haired female with brown eyes, Will deduces that Psychic is a fraud and leaves, telling her that their could be no woman because he is gay.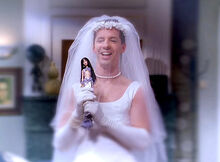 Later that night, while doing the dishes, Grace "trips" and breaks her china, prompting Will to remember Psychic Sue's earlier prediction. He also learns that his mother has sent a package containing the collar of his old dog, Daisy, who he remembers had "thick coat of strawberry blond hair." As soon as Will realizes the connection, he immediately revisits Psychic Sue intending to know about the future of his love life. To Will's horror, Psychic Sue tells him that he is going to spend the rest of his life with a man named Jack. Will tells Jack what the psychic said, inducing a disgusted squirm in both of them, but they realize they are meant to stay together, just in the non-romantic relationship they have always had.
I do a better Cher than you!
The friends go to dinner with Jack's prized Cher doll but they leave him behind after he makes outrageous demands for his doll at the restaurant. Alone talking with his doll, Cher comes up to him, but he mistakes her for a drag queen. Annoyed, Cher sings "If I could turn back time" to convince him that she is indeed the singer. Jack still not believes though, and even does an impression of Cher, which he deems is better. Cher finally slaps him and tells him to "snap out of it" and leaves, after which Jack realizes who she really is and faints.
Cast
Main
Guest
Cher (Herself)
Robert Romanus (Lenny)
Adam Lazarre-White (Manager)
Kenneth Alan Williams (Steve)
Keith Allan (Photographer)
Steven Christopher Clark (Stoner Guy)
Rochelle Hannah (Stoner Gal)
David Vaillancourt (Student)
Doug Devine (Ottomon Buyer)
Kevyn Aucoin (Himself)
Notes
Jack's storyline with the Cher doll was written in to anticipate the 2001 release of the doll. The week the episode aired, more than 2,100 people signed up on the pre-order page of barbiecollectibles.com.[1]

The 11-inch doll is a $60,000 prototype that Mattel would release later that year. Show-runner Max Mutchnick currently owns the doll that was featured in the show.[2]
Jack's obsession over Cher has been shown in earlier episodes Boo! Humbug and Das Boob, including his impressions of Cher.
Though not in a romantic sense, Psychic Sue's prediction that Will is going to spend the rest of his life with Jack is technically true, as they remain friends throughout the show.
While reading Will's fortune with Jack, Psychic Sue makes the "Just Jack" hand gestures.
Set Decorator Doug Devine was uncredited as the guy buying ottomans.
Celebrity makeup artist Kevyn Aucoin played himself, sitting at the table with Cher.
Sean Hayes submitted the episode (along with Grace 0, Jack 2000) for consideration during the 53rd Emmy Awards where he was nominated for Outstanding Supporting Actor in a Comedy Series.
Cultural references
When Jack expresses how he wanted to stay the night and watch Silkwood (1983), he does "lesbian who's been exposed to nuclear waste," referring to Cher's Academy Award nominated role of Dolly Pelliker in the film.
While Jack was wearing a kimono, Will refers to him as "Madam Butterfly", after the opera about a Japanese girl's romance with an American navy.
Media
Quotes
I mean, who calls themselves "Psychic Sue"? It's like me calling myself "Lawyer Will" or you calling yourself "Designer Grace" or Jack calling himself "Jumping Ferret Jack." — Will
| | |
| --- | --- |
| Psychic Sue: | I'm gonna need some keys or a wallet, something that's very personal to you. |
| Will: | Personal? Well, since I don't keep my shame in my pocket, my keys will have to do. |
| | |
| --- | --- |
| Psychic Sue: | Will, there is somebody. Somebody very special. And the two of you are gonna spend the rest of your lives together. And it's a man. And it's somebody you already know. |
| Will: | Johnny Depp? Is it Johnny Depp? |
| Psychic Sue: | Do you know him? |
| Will: | No. |
| Psychic Sue: | Does he know you? |
| Will: | No. |
| Psychic Sue: | Can I finish? |
| Will: | Yes |
| Will: | Yes. |
I'm telling you, Karen, put goodness out there, you get goodness back. It's like yesterday. I gave a crazy woman on the corner some money, today she didn't throw a plastic bottle of pee at me. — Grace
I haven't been this popular since the misprint in the yellow pages made me the "Breast Designer in New York." — Grace
When two men are in love and committed... And greased up like pigs at a county fair... — Jack, explaining sex
| | |
| --- | --- |
| Will: | Psychic Sue said I'm gonna spend my life with a man named Jack. |
| Jack: | Jack who? |
| Will: | Jack you! |
| Jack: | Jack me? |
| Will: | No thanks! |
| | |
| --- | --- |
| Karen: | This is a bad color on you. And your attitude is poor, too. You're the one who loves people. You're the pretty little gal from Ioway with the heart as big as all get out. |
| Grace: | Karen, I'm from upstate New York. |
| Karen: | Whatever. I got a facial in an hour. |
—

giving her pep talk
References
Community content is available under
CC-BY-SA
unless otherwise noted.