Game night is a tradition among Will and Grace and their couple friends Rob and Ellen and Joe and Larry, where they all meet at Will's apartment to play various party games, including charades, pictionary and Celebrity. Some nights they play cards as well. By the ninth season, they have added the mobile game Heads Up! to their list of games.
Grace says that game night is her and Will's version of sex because it gets them both excited.
History
In 2005, Will and his friends celebrated their 10th year anniversary of playing game night, implying the tradition started in 1995.[1] However, Will also mentions in Homojo that game night solved the Big Fight of '91, although it may not have been a tradition then. A rule book has been created to facilitate the games, which also includes their seating order.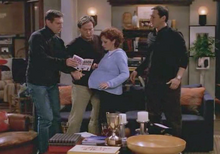 Will mentions that "The Great Bathroom Controversy of 1997" established time outs during a game of charades, where "each team may call one, and only one, time out, per tournament, as long as a new clue is selected upon their return."
Suck-on-it Cup
The Suck-on-it Cup is a trophy which the winners of game night bring home and gives them the chance to "turn to the losers and say, "Suck on it!!"" Although the cup is only seen once, Grace mentions that they've always won.[2]
Occurrences
References