Fagmalion Part One: Gay It Forward is the 13th episode of the fifth season, and the 111th overall.
Synopsis
When Karen sets Will up with her supposedly hot cousin Barry, Will finds a geeky guy with a scraggly beard and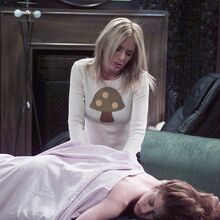 greasy hair… and he just came out. Meanwhile, Grace is puzzled over what to make of her strange bohemian neighbor when she moves into Leo's Brooklyn digs.
Cast
Main
Guest
Dan Futterman (Barry)
Rosanna Arquette (Julie)
Niko Heidt (Waitress)
Notes
Part 1 of 4.
The title of this episode arc is a reference to the George Bernard Shaw play "Pygmalion," in which snobby Professor Henry Higgins teaches lower-class Eliza Doolittle to be a lady. (The movie My Fair Lady is based on this play.)
The subtitle of this episode is a play off the movie title Pay It Forward, used by Jack.
First appearance of Julie.
Quotes
Community content is available under
CC-BY-SA
unless otherwise noted.