Fagel Attraction is the 23rd episode of the fourth season, and the 94th overall.
Closeted detective Gavin Hatch asks Will to a stake-out. Val comes back and tries to steal business from Grace.
Synopsis
Freaky Teeth Guy
Will's laptop gets stolen at the coffee shop so Detective Gavin Hatch invites him to a gay bar for reconnaissance. Hatch is later seen attending a gay group therapy with Jack where he admits lying to a guy he is attracted to i.e. Will to spend time with him.
At the bar, Jack sees Will with Gavin and tells him about Gavin's fixation on teeth and how disgusted he gets with dirty teeth. Will realizes Gavin just tricked him about finding his laptop so back at his apartment, he gets Gavin to confess by eating a mouthful of cookie.
Grace vs Val pt. III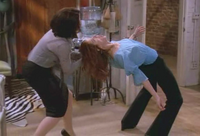 While pitching ideas for a meditation room to her client, Grace learns that another designer has opened business next door. It turns out to be her neighbor Val using a design Grace had thrown out.
Confused, Grace allows Val to present her ideas to the client. Clearly in an episode of lunacy, Val repeats everything Grace says like an echo and they end up hitting each other until Karen intervenes and knocks Val out.
Cast
Main
Guest
Fred Applegate (Dr. Foster)
Barry Livingston (Vince)
Louis Giovannetti (Cop)
Kevin Fabian (Man)
Notes
Val's fourth appearance.
This episode gave sound designers Peter Damski, Todd Grace and Craig Porter their first Outstanding Multi-Camera Sound Mixing for a Series or Special nomination at the 54th Primetime Emmy Awards.
Michael Douglas received a nomination for Outstanding Guest Actor in a Comedy Series at the 54th Primetime Emmy Awards. His Fatal Attraction (1987) co-star Glenn Close was also nominated on the same year.
Grace admits she hates her sister (presumably Janet), her doorman, and Teri Hatcher because "who doesn't?".
The cop who interrogates Will before Gavin (played by Louis Giovannetti) is the same officer he talks to at the end of Girl Trouble, who is implied to be gay.
Cultural References
Title is a play on guest star Michael Douglas' 1987 film Fatal Attraction. The film also stars Glenn Close who plays Fannie Lieber in the next episode.
Right before Jack comes in singing, Will says that he knew Gavin's secret because he knows "a little bird who sang." Jack is singing Lovin' You (1975) noted for Minnie Riperton's whistle register and the sound of songbirds chirping throughout the song.
Quotes
You have no idea what you're getting yourself into! I'd help you, but it's not my problem. — Jack
| | |
| --- | --- |
| Jack: | I'm trying to take care of my needs here, all right? Just a little something I learned in gay group therapy. |
| Grace: | Jack, inviting three hot guys over to your apartment for a "four-gy" does not qualify as group therapy. |
I'd love to stay and fondle, but Grace's mood ring is a filthy brown today. — Jack, to Karen
If there's anything I've learned from studying the ancient Chinese art of t'ai chi it's that if you do it in the morning, a couple hours later you're gonna want to do it again. — Karen
If there is one thing that I have learned from studying the ancient Chinese art of t'ai chi... is that violence is never the answer, but sometimes it is. T'ai chi! — Karen, knocking Val out cold
| | |
| --- | --- |
| Will: | But you're not even gay. Guess I'm barking up the wrong tree. |
| Gavin: | Woof. Woof. |
Community content is available under
CC-BY-SA
unless otherwise noted.