Between a Rock and Harlin's Place is the fourth episode of the first season. The episode marks the first of Jack's shows, Just Jack.
Jack invites his friends to his one-man cabaret act called Just Jack. Will sets Grace up to design his client Harlin's new apartment.
Synopsis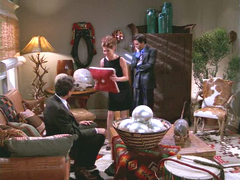 Will sets Grace up to design an apartment on the Upper East Side for Harlin, his biggest client who has recently separated from his wife. She is reluctant, however, knowing Will will not be able to control his obsessive nature and interfere. Will promises not to so she agrees. However, after seeing Grace's initial design—which includes taxidermized animals and fur upholstery—Will immediately voices out how insulting her design is for Harlin. Back at the apartment, Will informs her she has been fired and she blames Will.
At Jack's show, Will learns from Harlin that he actually liked Grace's design but decided to fire her because of the tension between the two of them and he did not want to cause trouble to their relationship as he is going through a separation himself.
Cast
Main
Guest
Notes
Cultural references
Media
Quotes
Hey! Hey! It's not the Will & Grace show! It's called Just Jack! — Jack, after Will and Grace's argument interrupts his song
Oh, darlin', whatever I don't get, I just figure is gay. — Harlin, about Will
If you called me at work and I wasn't there, the answering machine would say, "Grace Adler Designs." If you opened my purse, my business card would say "Grace Adler Designs." Seems like the only person who doesn't know Grace Adler designs is her best friend. Let me introduce myself. I'm Grace Adler. I design! — Grace
| | |
| --- | --- |
| Harlin: | You don't strike me as the assistant type. |
| Karen: | Well, honey, behave yourself, and I won't have to strike you at all. |
| | |
| --- | --- |
| Jack: | I've decided to take my career in a whole new direction. |
| Will: | Forward? |
I didn't design it for you, Will. I did it for a 6'4" man from Texas. If I was doing young gay lawyer, it'd be Deco with fear-based bitchy wallpaper. — Grace, on Harlin's apartment
Community content is available under
CC-BY-SA
unless otherwise noted.