Ben? Her? is the 23rd & 24th episode and finale of the second season, and 45th & 46th episode overall.
Will's perfect life and Grace's unhappy life seemingly turn upside down in a series of events.
Synopsis
The Five Pillars of Happiness
Will feels satisfied that his "five pillars of happiness", namely health, family, career, love life, and friendships are all fulfilled. Grace, however, is discontented in all pillars, including her offhand relationship with Josh. To help Grace patch things up with his boss Ben, whom Grace has had legal troubles with in the past, Will invites him over for dinner at their apartment. At first tense and scornful, Grace and Ben are able to see a more vulnerable and sincere side of each other. The next day, Will finds out that Grace has slept with Ben.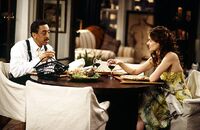 Just as Will is coming to terms with his best friend and boss starting a relationship, he finds out that Ben is seeing another woman, aside from Grace. When he confronts Ben about it, Will is appalled by Ben's indifference and impulsively quits his job. Will tries to break Ben's indiscretion to Grace but he soon finds out that she, too, is dating someone else aside from Ben.
After the guy he has been seeing breaks up with him, Will feels that his pillars of happiness have all regressed and he suffers an emotional crisis. Without saying goodbye to Grace, he leaves to spend time with himself at the Caribbean. This freedom is short-lived, however when Ben follows him to ask for help with clients, which turns out to be Karen and Stanley Walker.
Jack and Rosario's anniversary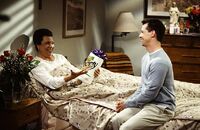 On the first anniversary of their wedding, Jack finds out about Rosario's affair with the gardener. Though theirs is sham marriage for Rosario to get her green card, Jack is furious, unconcerned of the fact that he is also seeing another man, Fernando, so he goes to Will to ask for legal assistance on how to take the matter to court.
Jack presents his ridiculous list of demands to Karen, including $500,000, a pony, and a Corvette, who immediately rejects it. Jack and Rosario subsequently gets divorced and he gets thrown out of the Walker Mansion so he moves in with Will, who is having emotional problems of his own.
Cast
Main
Guest
Richard Gross (Frank)
Gorden Owens (Servant)
Michael Edward Thomas (Caribbean Houseboy)
Pablo Cartaya (Fernando)
Jo Marie Payton (Mrs. Freeman)
Notes
Title is a reference to the film Ben-Hur (1959).
This episode was split into two episodes for syndication. Some scenes were edited or removed in the syndicated versions.
Grace reads that "Janet Eisenberg, 33, and David Bromberg, 35, are getting married." Janet Eisenberg is Max Mutchnick's real-life "Grace" and she and David had recently married.
Klaus von Puppy and Guapo appear in this episode.
Last episode where Shelley Morrison is credited as Guest. In the next season, she becomes part of the main cast.
Cultural References
Jack sings the ABBA song Fernando to his date, also named Fernando.
When Will learns that Grace and Ben had started seeing each other, he grumbles "you are unbelievable". Grace then makes an impression of sex icon Mae West, saying, "you know you're the second guy to tell me that in the last 12 hours".
Ben and Grace dance to the song, "It Had to be You".
Will makes fun of Grace's skirt when he asks if she should be in the dashboard of a cab, implying that it looks like a grass skirt worn by hula girls usually seen in dashboard dolls.
When Jack reads his list of ridiculous demands to Karen, she refers to him as Blanche, after the similarly demanding Blanche DuBois in the play A Streetcar Named Desire.
Jack is referenced as reading Valley of the Dolls to Karen's children every night. The novel is about women who try to pursue their dreams but end up being dependent on amphetamines and barbiturates.
Karen refers to Jack as Miss Girly Brown, a play on the name of former editor-in-chief of Cosmo magazine, Helen Gurley Brown.
While refusing to give into Jack's demands, Karen says "You ain't gettin' eighty-eight cents from me, Rose", a line from the song Some People from the musical Gypsy.
Based on Grace's yachting outfit, he jokes that she "picked up a shift at Long John Silver's", a popular seafood fast-food restaurant.
Will recalls that Grace hated radio show host and family therapist Dr. Laura Schlessinger "before the rest of the world did". The radio personality was involved in a number of controversies during the late 90s.
Mrs. Freeman mentions that she would like to date with Denzel, referring to actor Denzel Washington.
When Jack moves in with Will, we hear the theme from the sitcom The Odd Couple, which similarly is about two roommates.
While preparing to go the opera, Grace jokes "it would be a shame if the only overture I got tonight was from Mahler", a euphemism for sex referencing composer Gustav Mahler. Will then mentions operatic soprano Beverly Sills "chortling into her cleavage".
Josh offer to teach Will prāṇāyāma, the calming breathing techniques usually used in meditation and yoga.
Grace describes the other woman Ben is dating as "the chick with the Macy Gray hair", referring to the afro hairdo sported by singer Macy Gray.
When Jack comes out of the bathroom with a towel on his head, Grace refers to him as "Erykah Badon't", referring singer Erykah Baduh who usually sported a turban.
Ben walks in on Will at the Caribbean wearing a white suit and Will jokes that "I didn't hear Tattoo announce you", a reference to the TV series Fantasy Island where the character Tattoo shouts "Ze plane! Ze plane!" to announce the arrival of guests in the island.
Ben tells Will, "I hope you like piña coladas. Me, I like getting caught in the rain," lines from the song Escape (The Piña Colada Song) (1979) by Rupert Holmes. Will then tells him "I don't care if you like making love at midnight, I'm not coming back," a reference to another line in the song.
Media
Quotes
What does it mean when lesbians are getting married before me? — Grace
Rosario married me to get a green card. But as long as I'm married to her, I get a platinum card, a Barney's card, and a Hallmark card that says, "Welcome to easy street!" So I gotta keep the little woman happy. — Jack, summarizing his marriage
In this crazy, mixed-up world, how long can a marriage between a Salvadoran maid and a West Village singer/actor/dancer/choreographer last? — Jack, to Guapo and Klaus von Puppy
That's a filthy note. But also tender and gentle in spots. That Ben is a smooth operator. — Mr. Zamir, after reading Ben's card for Grace
| | |
| --- | --- |
| Grace: | Obviously I didn't plan this thing with Ben. It just happened. It was just this wild, chemical ripping off of a pair of $50 panties kinda thing. |
| Will: | Thank you, Grace. That'll go next to the visual of my grandmother getting out of the tub. |
This is serious, Will. I am about to lose everything, and I have a dog and a bird to support. — Jack
| | |
| --- | --- |
| Mrs. Freeman: | Mr. Doucette said that you should review the Blumen file. |
| Will: | Where is it? |
| Mrs. Freeman: | I don't know. Why don't you ask his assistant? |
| Will: | You are his assistant. |
| Mrs. Freeman: | I just said I didn't know. |
| Will: | Wow. Is that your fun side? I'm just asking, 'cause I wouldn't want to miss it. |
I've always been turned on by one Benji Franklin. He wasn't afraid to wear his hair up and away from the face. — Jack
Where do you get off asking me for 500k? Do you know how many times I had to "Oh, oh, oh, oh, my God, Stan! Aah! Aah!" to get that? — Karen
I gave you a year of my life so Rosario could stay in the country. I don't think a trust fund and a Corvette is too much to ask for. — Jack
You've got a good thing going here, and if you think that you can just shamelessly siphon cash off of a loved one like I'm doing with my husband, you've got another think coming. — Karen
| | |
| --- | --- |
| Grace: | I'm going yachting. Yes, that's right. I yacht now. |
| Will: | But you're Jewish. |
| Grace: | Hello? Have you ever heard of a little boat called The Ark? |
I'm not gonna let you do that thing where you chip away at a guy I'm dating. I start to question him, we break up, and then I'm back to flirting with the manager of Blockbuster again. — Grace
So, basically, you're taking my two best friends, screwing over one of them, and telling me I have to screw over the other. It's amazing, all this screwing. You'd think somebody would be happy. — Will
Now, it's not your fault, ok? It's not anyone's fault, but let's face it. Mommy's a whore. Mommy cheated on daddy, and Mommy's going to hell. — Jack, consoling his pets
| | |
| --- | --- |
| Will: | Not having to kiss your ass and pretend you're interesting is gonna free up a lot of my time. I might even learn a language. |
| Karen: | Honey? If you look inside this bag, I'm giving you a little sign language right now. |
I just want to thank you so much for your fine work at arbitration today. It was so nice. Oh, wait a minute. That wasn't you. That was the opposing counsel. — Jack, after losing the case
Well, it's not the Four Seasons, but, since life has given me lemons, I will drink your lemonade. With crushed ice, please. — Jack, moving in with Will
You're dating two guys, and they're seeing other people. This is not your life. You're not gay or French. — Will, to Grace
I'm dating two guys at the same time! My mother would so not approve! I can't wait to tell her. — Grace
Love life? Gone. Job got in the way. Job? Gone. Friend got in the way. Health? Well, something's in the way. I may have to borrow some of that bran. — Will
We don't fix ourselves. That's not what we do. I fix you, you fix me. So, this is what we're gonna do. Tomorrow is all about Krispy Kremes, blender drinks, and more Krispy Kremes. So, by the time we're fighting over the last honey-glazed, everything will seem so much better. — Grace, consoling Will
Her life, like her hair, had become unmanageable. — Jack, about Will's breakdown
Ok, we've got a little bit of a problem here. See, you're trying to make me Will. And I'm trying to make you disappear. How about we compromise, and you make me scrambled eggs? — Jack, living with Grace
Do whatever you want. 'Cause today I'm handing out lollipops and ass whoopings, and I'm all out of lollipops. — Grace
Oh, Grace, I'm not like the other men in your life. I will hit you. — Jack
Community content is available under
CC-BY-SA
unless otherwise noted.