Barry is Karen's cousin whom she fixes up with Will shortly after coming out. Originally socially awkward and lacking confidence in dating men, Will and Jack give him a makeover and end up vying for Barry's feelings after his transformation.
Biography
Prior to coming out, Barry was engaged to a woman named Mary Elizabeth.
Will, whom Karen describes as "cute and desperate" agrees to go on a date with him, after she states that Barry makes a great German dill potato salad for their family picnics. Will soon finds out that Barry had just come out and is clueless in dating men.[1]
Fagmalion
At Karen's request, Will and Jack team up to prepare Barry for the Human Rights Campaign gala, the "social event of the gay season," with Will in charge of teaching Barry the gay culture and Jack in charge of getting his body in shape.[2] Before they finally see Barry's makeover, Grace inadvertently makes Will realize that he has fallen in love with Barry, to his own frustration.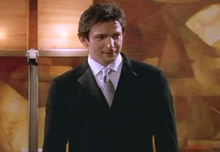 At the gala, Barry makes his grand entrance and Grace exclaims how attractive he is, which for Jack is the final test to see if Barry's transformation is complete. As guys flock over Barry and before Will could mount up the courage to admit his feelings, Jack asks Barry out.[3] Disappointed and desperate to win Barry, Will interferes and asks him out during his dinner with Jack, asking Barry to choose between them right then and there. Barry admits attraction to both of them but in the end chooses Will. Soon after, however, Barry expresses how he wants to experience "playing the field" and is not looking to date anyone exclusively just yet. Will sadly agrees to break up so Barry can pursue his wish.[4]
Notes
The title (and theme) of the episodes Barry appear in are a reference to George Bernard Shaw's play Pygmalion which in turn is based on the mythological character Pygmalion, who fell in love with his own sculpture. The story parallels in Will falling in love with his "creation", the transformed Barry.
Appearances
References
Community content is available under
CC-BY-SA
unless otherwise noted.