A Little Christmas Queer is the 9th episode of the eighth season and 179th overall.
Will and his friends spend the holidays with his family. Grace notices that Will's brother Sam is acting cold towards her. Jack helps out Will's gay nephew Jordie put on a holiday show for the family.
Synopsis
The Gay Son
For the holidays, Will and his friends celebrate with his mother Marilyn and formerly estranged brother Sam. He spends time with Sam's children, including his gay son Jordie. When Will learns that Jordie is performing a Christmas show for the family, he immediately shuts down the idea, saying Marilyn hates holiday shows because of the idea of another gay kid in the family. Will painfully recalls how his mother would distract the family to ruin his little plays and how humiliated he would feel after. Later, he realizes he is doing the same to Jordie so he lets him perform his Christmas show in front of the family.
As Jordie performs, a supportive Marilyn cheers him on, which shocks Will. He expresses to her the indignation he feels seeing how encouraging he is to Jordie after she had been awful to her own child. Marilyn laments how she was not prepared to raise a gay son, but has since learned because of how Will turned out.
The Holiday Whore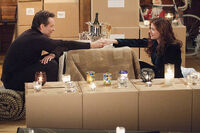 Grace joins Will celebrating Christmas (and Hanukkah) with his family, including his brother Sam, whom
she previously slept with
. Grace, however notices that Sam seems to be avoiding her all night.
When they are left alone in the attic to look for a menorah for Grace, she confronts him and Sam admits that he has been avoiding her in fear that something might happen again between them. He shares that after his divorce he is finding it difficult to be at the beginning of a relationship. Grace comforts him by telling how she also felt afraid to be single after his divorce from Leo and that it is necessary that he feels that way. They make an arrangement to see where they are both after one year.
Cast
Main
Guest
Notes
Will's oldest brother Sam Truman returns since the episode Big Brother is Coming (Part 2) where is played by John Slattery. Slattery was unavailable for this appearance and was replaced by Steven Weber.
Jordie was planning on naming his perfume "Scoundrel" when Jack tells him it's the same as Joan Collins' perfume. Collins previously appears as famed interior designer Helena Barnes in the season 2 episode My Best Friend's Tush.
As all the scenes take place in Connecticut, this is one of the few episodes not to feature Will and Grace's apartment.
After announcing that he was divorcing his wife Ginny 7 years ago, Sam's divorce has just become final.
Kyla Dang is credited as "Courtney" but was called Casey in the actual episode.
One of the two episodes penned by Jamie Rhonheimer, the other being The Mourning Son, which also centered around Will's family.
Cultural References
Media
Quotes
We're officially in Connecticut. Where the whites keep down the other whites. — Will
| | |
| --- | --- |
| Marilyn: | Now, Grace. Don't feel awkward. You're always welcome here, even at Christmas. |
| Grace: | Marilyn, I don't feel awkward. Just like I'd hope you wouldn't if you came to my home on Hanukkah. |
| Marliyn: | Thank you, dear. We'll cross that bridge when we get to it. |
She's adopted. But I like her as if she were real. — Marilyn, about her niece
| | |
| --- | --- |
| Jordy: | Don't you think the tree is T-Acky? |
| Jack: | She should have gone monochromatic. |
| Jordy: | E-X-Actly. |
| Jack: | Yeah, you wanna pick your spots with that. |
She'd rather see little boys playing in the show than... than singing in the rain. — Will, about his mother
I just don't want to see Jordie humiliated like I was. I used to be so upset, I'd spend the rest of the night scarfing down butter cookies and pretending the crinkling of the wrappers was... was applause. — Will
Try my famous holiday cocktail, the Blue Marilyn. I started drinking them to prevent thoughts of suicide. But now, they're just fun. — Marilyn
| | |
| --- | --- |
| Grace: | Has anyone seen Sam? |
| Karen: | Did you check down your pants? |
Go run around the yard! I want you five pounds lighter for the opening number! — Jack, starting Jordie's show
Well... The tousled hair... the slightly smeared lipstick... the disheveled clothing... Either you're on your way to work, or the holiday whore is back! — Karen
After Leo and I, every guy who opened the door for me got my house key. I spent a lot of money changing locks that year. And it was because I was so scared of being single. And I think you might be too. — Grace, sharing her anxieties being single
She's adopted. But I like her as if she were real. — Marilyn, about Casey